The essence of our work is job growth. Every initiative we lead strives to directly or indirectly create jobs. But not just any job, quality jobs. Quality jobs – those jobs that provide a livable wage with benefits – offer the most direct path to economic mobility and broadly shared prosperity. Our region is not successful unless we expand the number of quality jobs available to all St. Louisans, regardless of where in the region they live.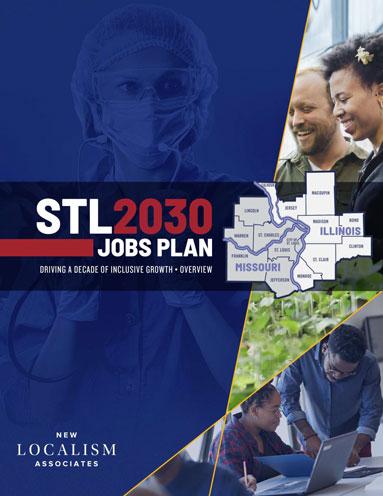 As outlined in the STL 2030 Jobs Plan, the next decade presents an exceptional opportunity for St. Louis to leapfrog past other U.S. metros as a leader in inclusive growth. By growing the number of quality jobs, especially for Black and Brown people, St. Louis can transform itself into a 21st-century metro that is powered by strong industry clusters, skilled workers, and inclusive workplaces.
In 2023, we launched STL 2030 Progress, the regional effort called for in the STL 2030 Jobs Plan to measure the metro's progress on inclusive growth. The website — a data-driven toolkit — was developed to track the region's advancement toward inclusive economic growth goals and visually highlight the investments, developments, and initiatives driving growth across the 15-county bi-state metro. 
One industry cluster that is positioned for significant job growth in the region is geospatial. The new $1.7 billion National Geospatial-Intelligence Agency headquarters — Next NGA West — in North St. Louis is underway. This state-of-the-art facility will attract a new base of federal workers, defense contractors, private-sector firms, and university researchers that will fuel sector growth in the years ahead. The GeoFutures initiative builds on the momentum and provides a strategic roadmap for accelerated job growth.
Companies looking to grow their enterprises in the St. Louis region get support through our business attraction initiative. Our team of experts help site selectors and companies identify real estate, find workforce solutions, and take advantage of potential financial incentives.